Curriculum
We are a unique school, which is a happy and motivated community. We celebrate our diversity as a strength.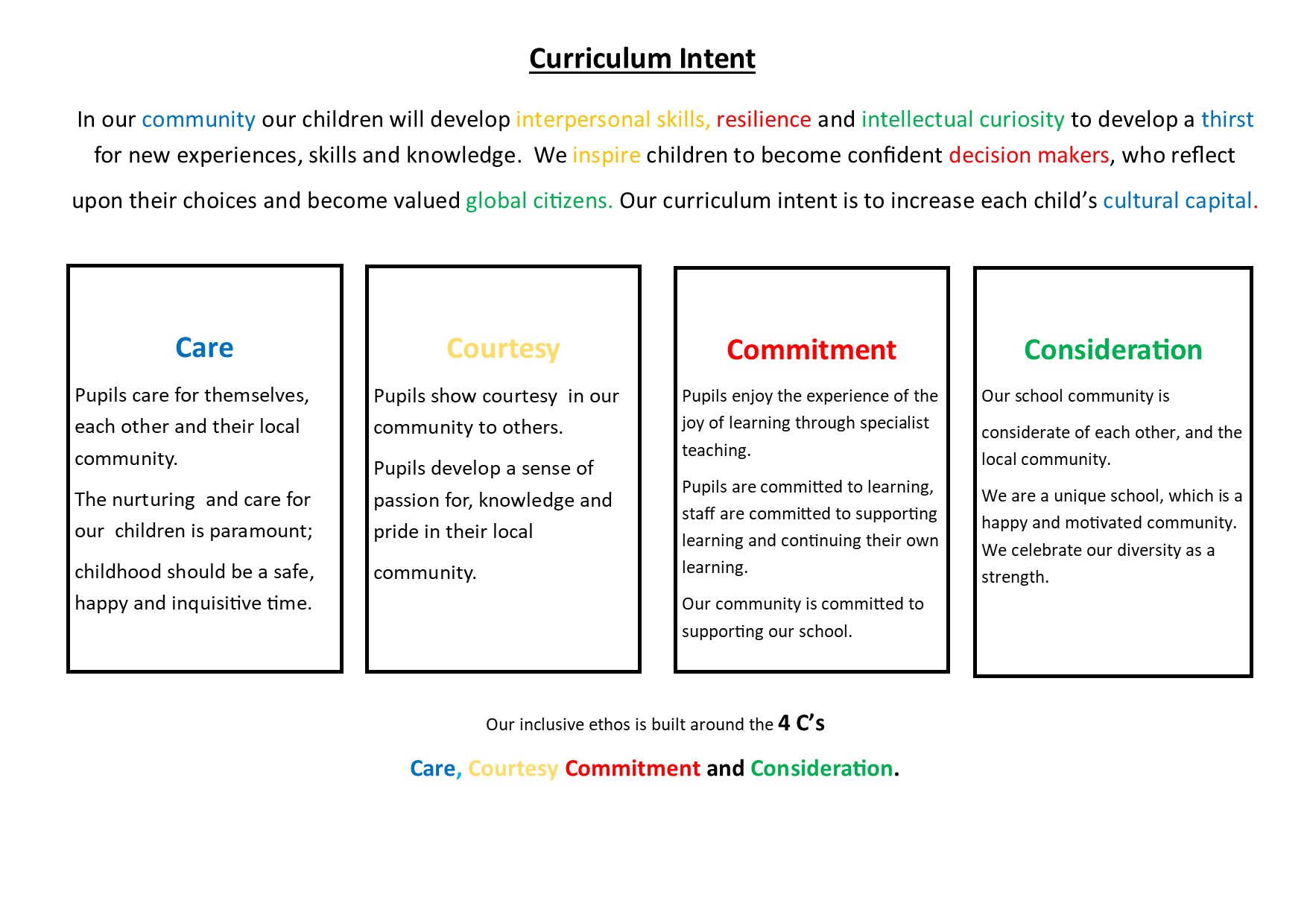 Curriculum Implementation
EYFS
The pupils learn through a mixture of child initiated play and direct teaching in small groups. The classroom environments are carefully set up to develop curiosity, independence and challenge. The development of language through rhyme and story-telling are a focus. Pupils are able to learn inside and outside across the sessions. RWI phonics is introduced in the nursery as a foundation for reception.
Key Stage 1
Pupils are registered in their home classrooms but then move for phonics, English and Maths lessons. The children are regularly assessed in phonics and phonics sets are fairly fluid to ensure that pupils are in appropriate classes and stretched, challenged and supported. Rapid interventions are put in place for pupils who need additional time to embed their learning. Once pupils complete RWI they move onto the Talk4Writing programme for their English lessons.
Pupils are also set for Maths and for writing to ensure that all pupils meet their full potential.
All other subjects are taught in the home classrooms with the exception of ICT, PE and music. We absolutely recognise the need for children to develop their imaginations and learn through play. Continuous provision is well established throughout Reception and Year 1 to encourage children's development and encourage their natural curiosity.
Continuous Provision
Continuous provision offers children the chance to engage in active learning through hands-on, play-based activities which they can access whenever they choose.
Continuous provision can enable children to explore recent learning, practice new skills, and follow their own interests, both indoors and out.
Staff will often enhance the provision areas to make links to adult led learning. This gives teachers the opportunity to introduce their adult-led activities, being sure that children have
plenty of chances to practise and improve skills, knowledge and confidence in active, independent learning.
Key Stage 2
From Year 3 upwards all pupils are registered in their home classroom by their form teacher, but lessons are now taught within the year group as a whole. We deliver the subjects through specialist teaching. Children are streamed for Maths, Reading and Writing and taught by separate teachers for each subject in different ability groups. This means that teachers are specialist within their area and are better able to stretch & challenge and differentiate and support of all our pupils.
This year we have extended this to science, humanities (History, Geography and RE) and Art/ DT as we have seen the benefits across the core subjects in terms of teaching and pupil progress. Where possible science and art lessons are timetabled to occur in our new our new Science Lab, and Art room as well as in pupils home classrooms.
All other subjects: Music, French, Computing and PSHE are taught by their teacher. PE lessons are supported by our 2 sports coaches with the support of The Howard School Sports Partnership.
At Twydall Primary School we teach using the following framework and curriculum:
Our Nursery and Reception teaching follows the "Statutory Framework for Early Years Foundation Stage." For more information about this please click here.
In Year 1 - Year 6 we base our teaching on the National Curriculum Program of Study. Please use the navigation bar to review Annual Curriculum maps, termly curriculum letters, home learning and subject specific learning frameworks.

For more information about this please click here.
To view the national curriculum Programs of Study for Primary Schools please click here.
(If you require paper copies of any of the information provided on our website, please contact a member of the office staff.)